Kilgore welding company owner creates 'steelasauras' sculptures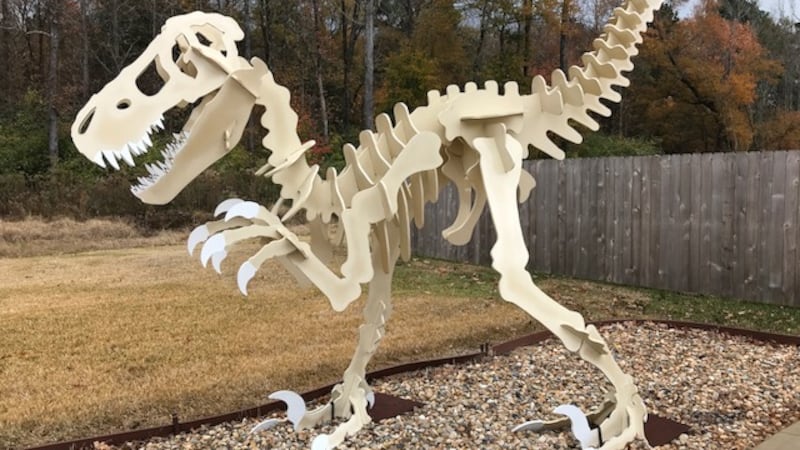 Updated: Nov. 30, 2018 at 7:16 PM CST
KILGORE, TX (KLTV) - Kilgore is known as an oil town with oil-related businesses in and around it. Many people think oil came from the remains of decayed dinosaurs, but it turns out that just isn't true.
But that fact didn't stop the owner of a Kilgore business from raising his own dinosaurs.
Driving down FM 1252 near Highway 42 you might be distracted by the number of them. Large steel dinosaurs.
But what is this place? Production Manager Shane Austin said a number of people guess incorrectly what the place is.
"A dentist office. I've heard daycare; I've heard the Discovery Science Place. My son rides a bus and they swear up and down on the bus that it's a museum," Austin said.
Austin then said what it is.
"It's a welding company," Austin revealed.
It's an office for Modisette Welding and Supply, owned by Chris Modisette.
"To know Chris Modisette, you've got to step into his mind a little bit, and that's in his mind," Austin explained.
Modisette's business is fracking equipment, but sometimes that slows down, so he dabbles.
If it weren't for the dinosaurs, Austin said he doesn't think people would stop by.
"Exactly. It makes people stop by. Otherwise, they wouldn't stop. Now that we have dinosaurs, we have all kinds of visitors," Austin said.
He says people take pictures all the time, and kids love them.
"Chris has a soft spot in his heart for children and this makes them smile, and it makes him smile," Austin stated.
The Raptor looks wooden, but it's a steelasaurus, just like the others. Although a dimetrodon, is actually a lizard, a mammoth is actually a mammal, and a pterodactyl is actually a flying reptile.
"It was fun. You go home and tell your wife: I built a dinosaur today," Austin said.
Austin left the raptor a little loose so it moves in the wind.
There is one more critter out there who seems a bit out of place, but it makes a name spring forth in my mind: "Giraffic Park."
Shane Austin says folks should swing by from time to time; there could be something new. People have asked about buying a dinosaur, but so far no one has shelled out the bones to actually do it.
They say they still have the patterns and can cut the critters out if someone is serious about a purchase.
In case you were wondering what the sculptures weigh, the raptor weighs about 1,000 pounds.
Copyright 2018 KLTV. All rights reserved.