From Amarillo to Outer Space: New airport exhibit details the legacy of local astronaut Rick Husband
Updated: Aug. 29, 2018 at 5:26 PM CDT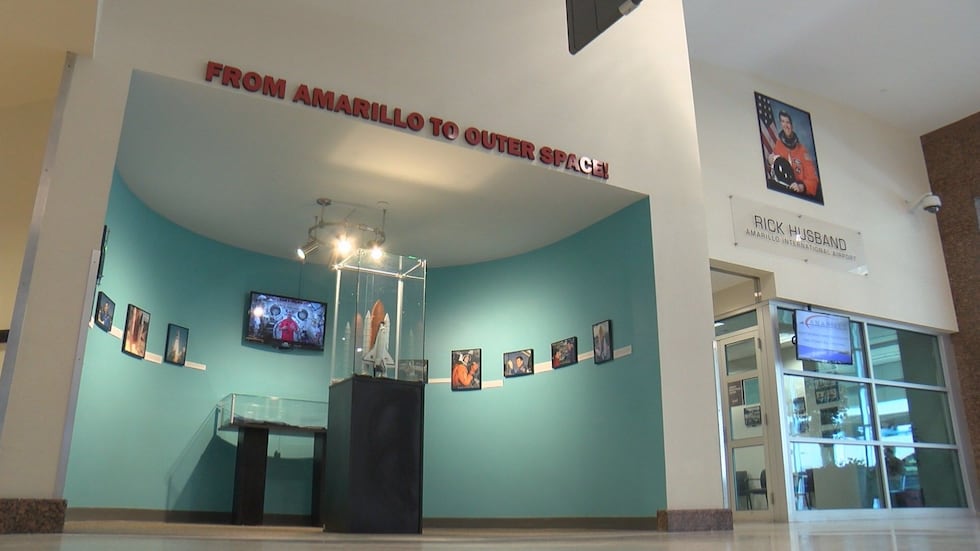 AMARILLO, TX (KFDA) - As travelers come and go through Rick Husband Amarillo International Airport, a little blue cut-out room stands out.
The career of Columbia Commander Rick Husband summed up in five words across the top: "From Amarillo to Outer Space."
Get the latest Amarillo news straight to your phone! Apple | Android
"Not just a picture on the wall, not just a plaque," said Michael Conner, Director of Aviation at the airport. "It's the whole story of who Rick Husband was and I think that's important for the community to know on a permanent basis."
From Husband's Amarillo roots to his tragic death on the Columbia space shuttle as a member of the STS-107 crew, the exhibit details it all, including photos from missions and memorabilia, given by his family and NASA.
"Hopefully travelers will pass through, see pictures, see stories of him, and then hopefully aspire to similar things or go beyond, maybe to Mars," said his daughter, Laura Husband.
Among the audience during the exhibit's unveiling were students from local schools Husband attended like Belmar Elementary and Amarillo High School.
Husband's daughter hopes the exhibit and his legacy inspires kids to get involved with the space program.
"Just seeing the next generation, it really connects to what my dad started here and where he went and so I hope for the kids that came today and the kids in the Amarillo area and the surrounding area that they're inspired to do similar things," said Husband.
Astronaut Paul Lockhart, Husband's longtime friend and colleague, says he's hopeful Husband's research and work will have an impact on future generations.
"Everything we learned from building the space station, which Rick was a part of, and then everything we learned from his biological sciences flight, will be put to use with the new core of astronauts and the children that we met today who will be our future astronauts and going and representing America's space program as we do go back to the moon and Mars in the future," said Lockhart.
A possibility very real, that another child from the Panhandle could someday travel to space and even Mars, where "Husband Hill" stands tall, millions of miles away.
Copyright 2018 KFDA. All rights reserved.